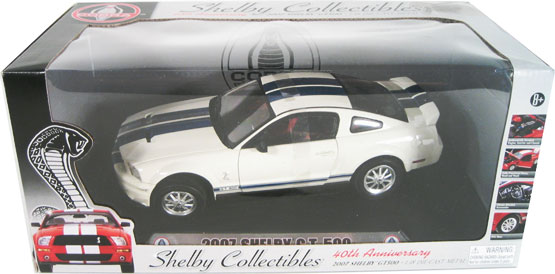 2007 Shelby Mustang GT-500 - White (Shelby Collectibles) 1/18
SKU: SC-07MUS-W
|
EASY ORDER INFO HERE

Carroll Shelby created the legendary Cobra in 1962 and changed the face of American automotive design forever. His Shelby Daytona Coupe earned the 1965 FIA World Manufacturer's Championship, a feat which no other American manufacturer has ever matched. He has worked with Ford creating the 289 Cobra, Cobra Daytona Coupe, 427 S/C Cobra, the racing GT40, the Mustang G.T. 350 and G.T. 500, with Dodge creating the Shelby Charger, Lonestar, GLH, GLHS, CSX, and Viper as well as the Shelby Series 1 from the ground up utilizing internal resources and premium outsource suppliers. With his 40+ years as an automotive innovator, Carroll Shelby's legacy promises to reach well into the future with products such as the Ford Shelby Cobra, Ford GT, Ford Shelby GR-1, and the '07 Ford Shelby GT500.