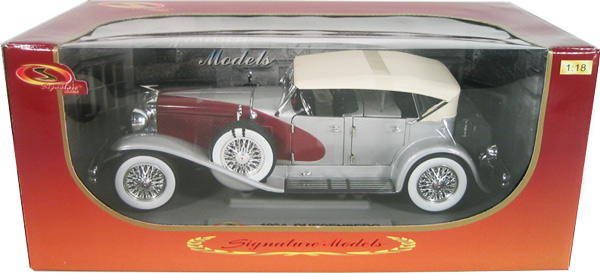 1934 Duesenberg Model J (Signature Models) 1/18
SKU: SG-34DUES-S
|
EASY ORDER INFO HERE



Duesenberg was king of the road in the 1930s. Costing $20,000 to $25,000, the "Duesy" was the domain of the very rich. Film legend Gary Cooper bought the first SSJ, a 1935 model. The elegant car was a fitting statement for the actor known for his portrayals of the quintessential American hero. The SSJ was the short wheelbase SJ, which itself was a supercharged J, the first of the opulent Duesenbergs. Brothers Fred and August Duesenberg supercharged the 420 cubic inch eight to produce 320 horsepower in the SJ, a staggering number for the times. The SSJs, appearing in the last year of the Duesenberg marque, had the same supercharged eight, but they were built on a lighter 125" wheelbase, making them the fastest and grandest of all. They were capable of more than 100 MPH in second gear and a top speed of 150 MPH.


Signature Diecast Cars No. 18110 - Limited Edition of 600 Pieces!