1963 Pontiac Lemans Sport Coupe Caravan Gold/Cameo Ivory (Highway 61) 1/18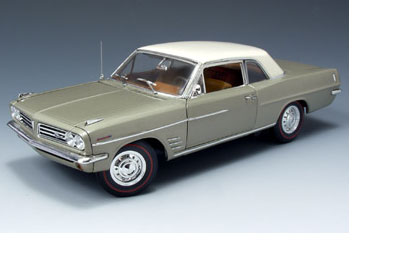 EASY ORDER INFO HERE
"The Baby GTO."
The 1961-1963 Pontiac® Tempest models were quite innovative cars for their time, especially for a regular production vehicle. The 1963 Lemans™ Sports Coupe was the culmination of the design experiment. Masterminded by GM's John DeLorean (considered by most the father of the GTO™), these cars featured a unique front engine with rear transaxle arrangement, a feature providing excellent front-to-rear weight balance for outstanding handling. When teamed with fully independent rear suspension, a feature most commonly associated with the Corvette™, Pontiac's little Wide-Track™ really stuck in corners.
Handling aside, the "Little Indian" packed the punch of the optional 326 cubic inch V-8, making it into a rousing road machine. This package equated to 260 horsepower at 4800 rpm and 352 ft. lbs. of torque at 2800 rpm, with a bore of just 3.72" and stroke of 3.75". To transfer all the power to the pavement were optional axle ratios of 3.56:1 and 3:78:1. A "torque-tube" housed the triple-alloy-steel driveshaft (nicknamed the "rope shaft"), virtually eliminating the transmission tunnel for added interior space and comfort for up to six passengers. All exceptional considering the car had a short 112-inch wheelbase.


One year later, based on the innovative 1963 Tempest Lemans design and a big block 389 cubic inch engine, the GTO was born.


This 1/18 scale replica from Highway 61 Collectibles™ is the next in a series of releases designed to live up to the high standards of the designers and manufacturers of the original cars. From the quality of the finish and decoration, to the many precision-crafted working features, this model is destined to become a cherished addition to your collection.

Highway 61 Diecast Model No. 50145