1965 Plymouth Belvedere Racer (Highway 61) 1/18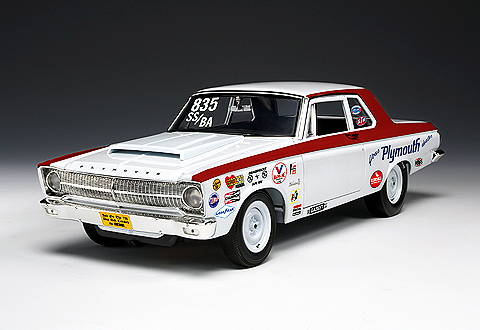 EASY ORDER INFO HERE
More about this diecast model car...
"Win on Sunday, sell on Monday" was the word in the mid-sixties, and ChryslerŪ was locked in a battle for domination on and off the track. Plymouth's Sport Fury had been "up-trimmed" out of the racing category by 1965, so they turned to the tried-and-true Plymouth B-body family in use since 1962. Chrysler had been successful on the race circuit in 1964 with the monstrous 426 HemiŪ "elephant engine" and they needed something lean and mean to keep ahead of the pack. So with a few styling changes the new Series AR, more commonly known as the 1965 Belvedere, was born. The new Belvederes featured a new Fury-inspired grille with only two headlights, and was now reclassified as a midsize body even though the 116-inch wheelbase remained the same from the year before. Belvederes ran from the performance-minded Belvedere I and II to the high-end Satellite. The Belvedere I and II featured a 225ci slant-six or a 273ci 180-hp V8 as standard; other options included a 318ci V8 with 180hp, a 361ci V8 with 230hp, and finally the massive 426ci V8 delivering 365hp. Advertisers dubbed the Belvedere family "The Roaring '65s".

Belvedere I models offered two- and four-door sedans and a four-door station wagon. Belvedere IIs offered both hardtop and convertible coupes, a four-door sedan, and two wagon variants. The Belvedere I was also available in a Super Stock R01 hardtop coupe, with an exclusive Super Stock 426ci V8 rated at 425hp but realistically delivering upwards of 490hp. No official production numbers exist for the R01, and it was dropped as an option in model year 1966. Significantly in 1965, ChryslerŪ replaced the dash-mounted push-button automatic transmission shifter in all models with a column-mounted shifter arm, which it had previously abandoned in 1955. Mopar enthusiasts may disagree why, but whatever the final reason, the trusty push-button shifter was gone forever.

In another shrewd engineering move, ChryslerŪ moved the rear axles forward in order to gain traction by moving the drive wheels closer to the engine. These were still officially factory-produced cars, and were still legal for racing, even though the configuration looked "funny". Thus, a legend was born and the altered-wheelbase cars would forever be known as the first "funny cars".

Limited Edition of 600 diecast pieces. Includes customer-applied dragstrip decals.

Highway 61 Diecast Model No. 50625