1964 Dodge 330 'Color Me Gone' Max Wedge (Highway 61) 1/18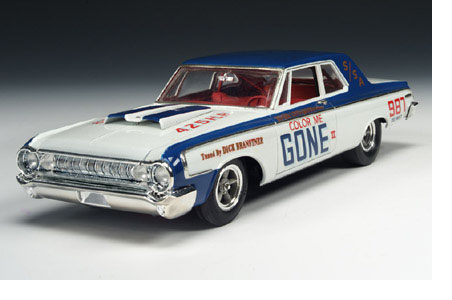 EASY ORDER INFO HERE
Street, strip or showroom... Dodge is a winner!

In 1964, Dodge consolidated a number of it's available "stock" parts into a "Maximum Performance Package" available on the 330 Series Sedan. Powered by high-output Ramcharger 426 Max Wedge or 426 Hemi engines, these factory-built race cars included custom-fabricated aluminum hoods (with huge dual or single inlet scoops), lightweight front bumper, magnesium front wheels, plastic side windows and bucket seats (out of the Dodge commercial van) completed the package. With these cars, Dodge issued this warning: "designed for use in supervised acceleration trials. It is not recommended for general every day driving because of the compromise of all-around characteristics which must be made for this type of vehicle." They weren't kidding.

Powering the 1964 Dodge 330 Superstocks were the 426 Max Wedge or new 426 Hemi engines. The Max Wedge was a 413 RB-Wedge V-8, bored from 4.19 to 4.25 inches to become the Ramcharger 426. Immediately, the 425 horsepower Ramchargers blistered the record books with quarter-mile times in the 12-second range. In effort to dominate all forms of racing, Chrysler introduced the 426 Hemi V-8 in February of 1964. The Hemi was created by ultilizing the hemispherical combustion chamber design from the 1950's Chrysler Red Ram (FirePower) engines. When the Hemi heads were mated to a beefed-up 413/426 RB-Block over 500 horsepwoer was achieved. Just for the dragstrip, a ram-tuned aluminum induction set-up with two 4-barrel carburetors pushed output to nearly 700 horsepower.