1968 Dodge Dart GTS 383 - Silver (Highway 61) 1/18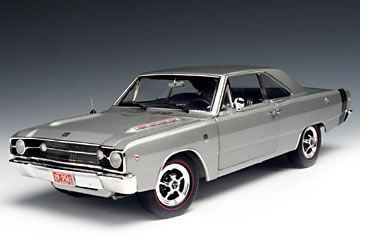 EASY ORDER INFO HERE
Dodge Dart GTS - 'Compact' Muscle Car!"
The 1968 Dodge Dart GT Sport provided sporty appearance and smooth handling to the muscle car enthusiast. Coming off a banner year of sales in 1967, when the Dart was the automobile industry's most popular regular-sized compact, in 1968 Dodge set forth to increase sales through wider-market appeal. Dart's fresh new style and addition of a GT Sport model (or GTS as it also known), accomplished all Dodge's goals and more!
The hot ticket in the 1968 Dodge Dart Sport was the optional 383 cubic-inch engine. Imrovements to the venerable 383 for '68 included new cylinder heads (with chrome valve covers), intake manifold and low-restriction exhaust. Redline striped wide-track tires, along with the Rallye Suspension package provided a firm ride with higher speed handling and cornering ability. Two hood "power bulges" with chrome vented trim and contrasting GT trunk stripes completed the look. A limited 426 Hemi powered Superstock version was available for the most serious speed enthusiasts, but was highly encouraged for use on the track and NOT public streets, roads or highways.

Highway 61 No. 50197