1932 Cadillac Deluxe Tudor - Emperor of China Limousine (Sun Star) 1/18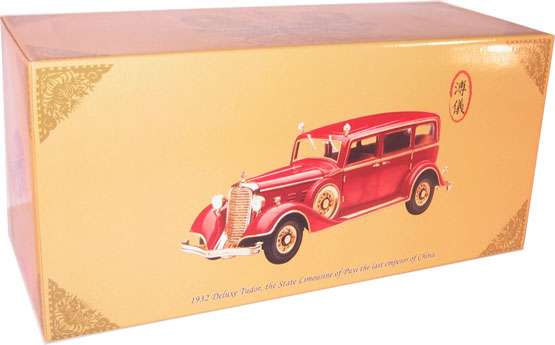 EASY ORDER INFO HERE
In autumn of 1932, while Axinjueluo Puyi being the puppet Emperor, one deluxe Cadillac with eight cylinders was ordered to celebrate the ascendion throne. In addition, the puppet Manchuria Government marked the car.
The car is 5.7 meters long, 1.99 meters wide and 1.92 meters high, and it characterizes for the great horsepower, high speed and stablility. During that perod, the "Lupu" car team always accompanied the puppet Emperor. This Cadillac was the head car that is Puyi's car, a typical Emperor's car.
Includes hardwood display base, color booklet with a history of Puyi, Limited Edition Certificate, and deluxe packaging.
Length: 12.00 Inches (approximate)


Width: 4.25 Inches (approximate)


Height: 4.25 Inches (approximate)

Sun Star No. 4100