1956 Volkswagen Samba Micro Bus - Chestnut Brown & Red (SunStar) 1/12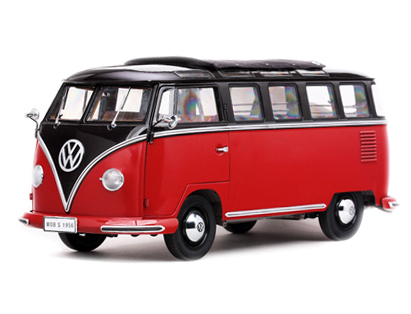 EASY ORDER INFO HERE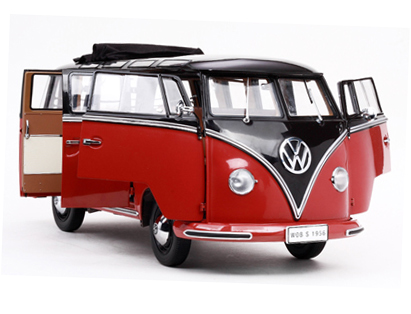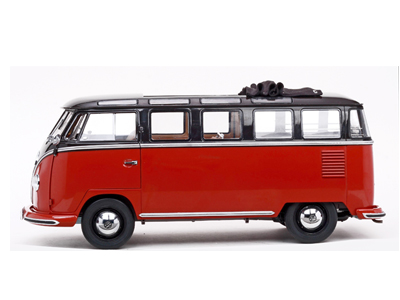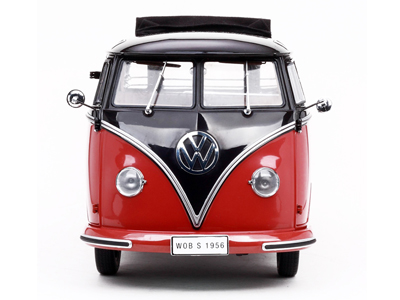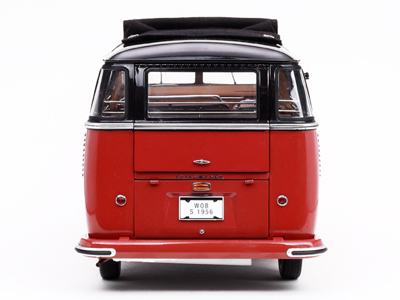 The VW Kombi T1 or Microbus entered production in March, 1950. Initially manufactured at the Wolfsburg plant, it was transferred in 1956 to the new Transporter factory in Hannover. With its innovative design where the driver was placed over the front wheels and the engine at the rear, the Kombi, or combined passenger and cargo vehicle, was produced in several forms including as a delivery or panel van with or without raised roof, Minibus, flat-bed truck with standard or crew cab, and as a camping van (Westfalia). Production ceased in Germany at the end of 1967, but continued in Brazil until 1975, and then, after modification into the so-called T1.5, until 1996.

In the USA, the VW Bus became an icon of the '60s and, in particular, of the hippie youth sub-culture. It could carry a number of passengers, camping gear and supplies, its shape was the antithesis the American automobile of the period, and as a second-hand or used vehicle, it was extremely cheap. It quickly became a symbol of the "Peace and Love", anti-war generation. Popular was the 23-window camper with fold-flat seats, and sliding fabric sunroof.

The collector and gift-recipient of this huge 1:12 scale diecast '62 VW model alike will quickly fall in love with the many operating features; operational door handles, pivotal side-view mirrors, sliding door glass, working fabric sunroof, windshield wipers, telescoping antenna, removable spare tire and tools, opening doors (including fuel-filler door), and detailed flat-four engine. But there's more!

SunStar Diecast Model No. 5073 - Limited Edition of only 1,500 Diecast Pieces

Features :

• Opening fabric roof.
• Functioning door handles on front and side doors.
• Extending radio aerial.
• All four wheels can be changed by unscrewing the 5 nuts.
• Front seat back folds up for access to removable spare wheel.
• Fully positionable external mirrors and supports.
• Removable hub caps.
• Removable fuel cap.
• Posable windscreen wipers which also hinge outwards.
• Movable gear lever.
• Sun visors fold down and swivel.
• Front seat back folds up for access to removable spare wheel.
• Bench seat folds up for access to tool kit.
• Fully functional steering.
• Front side windows slide to open.
• Front quarter-lights open.
• Working front and rear suspension.
• Soft leather-effect seats.
• Detailed engine with separate HT leads fan belt, alternator, starter motor etc.
• Over 600 separate parts.