1961 DeSoto Adventurer - Light Green (YatMing) 1/18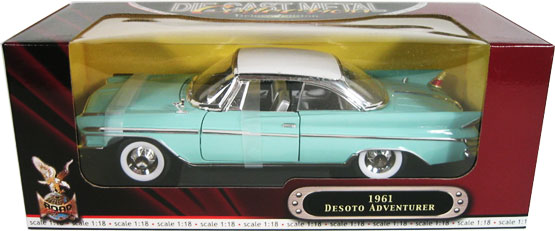 EASY ORDER INFO HERE
After years of rumored closure, in November 1960, Chrysler Corporation announced that it would cease production of the DeSoto. DeSoto reached its peak years in 1955, selling 115,485 cars divided into two series, Firedome and Fireflite. These two lines included seven models. 1958 was not a kind year to DeSoto. Sales fell to 49,445 and rumors began to circulate about DeSoto coming to an end. 1959 found DeSoto still battling the rumor mills. Production amounted to 45,724 vehicles. Even with so few sales the DeSoto line offered a wide range of models from wagons to convertibles. But DeSoto found itself in the same boat as many other medium-priced cars, sales were being squeezed by newer low- priced cars. 1960 saw an all new DeSoto featuring Unibody construction, which was now shared by all Chrysler Corporation vehicles except Imperial. 1960 saw DeSoto come out with a revised model lineup. It now consisted of the Firedome, Fireflite, and Adventurer. The only body styles now offered were sedans and hardtops. Sales slid to only 26,081 cars. The rumors picked up speed.
The 1961 models were facelifted '60 models and shared many styling cues with the Chrysler (Newport and Windsor) with which they shared body shells and many other parts. The overall styling featured a streamlined look of motion leading to attractive fins. The front end design featured canted headlights (like the '61 Chrysler) framing a horizontal grille topped by a distinctive air scoop. The sides are clean with one moulding running nearly the entire length of the car. Sculptured fins begin at the vent window and sweep back to balance the curving rear deck. The rear deck features five ribs carrying over a theme begun on the 1957 Adventurer.
A new straight windshield slanted up to the roof, eliminating distortion caused by the curved upper edge design on previous models. A new roof design on the four-door models featured twin speed lines from front to rear.
YatMing Road Signature Diecast No. 92738