2006 Pontiac Solstice - Green (Yat Ming) 1/18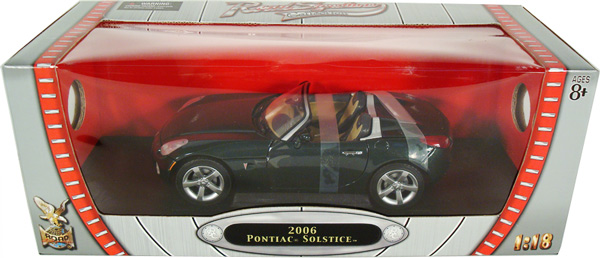 EASY ORDER INFO HERE
More about this diecast model car...
Based upon a new General Motors Kappa architecture that will spawn several fun-to-drive small cars around the world in coming years, the gorgeous 2006 Pontiac Solstice roadster is not only intended to become an icon for GM's performance division but also is gunning for the best-selling roadster on the globe, the Mazda Miata.

Styling is always a subjective matter, but the 2006 Pontiac Solstice is likely to land in the pantheon of the most beautiful American cars ever designed. From its honeycombed twin-port grillework to its thick exhaust outlet, the Pontiac Solstice offers a stunning blend of proportion and balance. The convertible top folds flat behind a clamshell cover on the rear deck, completely hidden from view when the sun is shining into the driver-oriented cockpit. An aluminum 2.4-liter DOHC Ecotec four-cylinder engine that makes 170 HP.

YatMing Road Signature Diecast No. 92678
AVAILABILITY LOW - SEE PRICE HERE