1969 Dodge Daytona Charger #99 Charlie Glotzbach (MIC) 1/18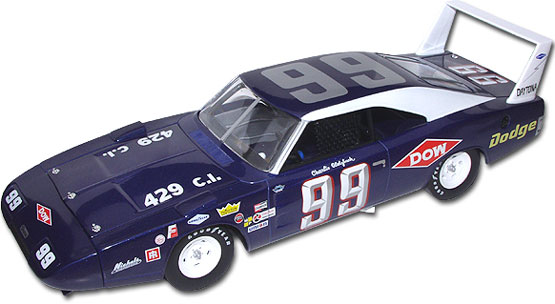 EASY ORDER INFO HERE
In 1969, Nichels Engineering debuted the original "Winged Warrior" in the form of the #99 Dodge Daytona Charger. In 1970, Ray Nichels and his staff at the "Go-Fast Factory" campaigned the Nichels Engineering Dow Dodge Daytona Charger . They started the season by winning one of the Daytona qualifying races and by the time the season ended Nichels Engineering driver Chargin' Charlie Glotzbach had raced 17 times garnering 2 wins, 4 poles, 6 top fives and 8 top tens.

The #99 Dow Dodge Daytona Charger is one of the most recognized of all of the "Winged Warriors" built for Chrysler's Corporate racing effort by the team at Nichels Engineering, based in Griffith, Indiana.

Ertl Winged Warriors Series Diecast No. 29384 - Limited Edition of 1,500 Diecast Pieces!