1977 Pontiac Trans Am "Smokey and the Bandit" (Ertl) 1/18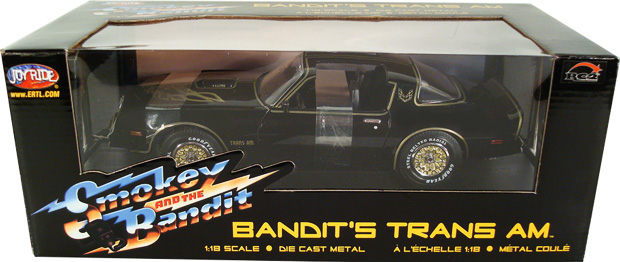 EASY ORDER INFO HERE
They were "East Bound and Down" in this classic late-1970s comedy that not only capitalized on the CB craze, but also featured some of the wildest automotive stunts ever filmed. The Bandit and The Snowman are two over-the-road drivers who accept a challenge to deliver a trailer of beer from Texarkana to Atlanta. The only catch is that they are required to deliver it in a time frame that is not at all conducive to following the speed limit! Hounded by local lawman Buford T. Justice every step of the way, the boys take to the highway to earn a very impressive payday - with the Snowman in an 18-wheeler and The Bandit running interference!
This newly tooled 1:18 scale American Muscle die-cast features a replica of the 6.6 litre engine under the opening Firebird hood. You can peer through the open T-top at a tan interior that includes folding bucket seats, gold painted gauge cluster and CB radio with flexible cable and a plated replica CB antenna is perched on the roof (in a pouch in the box for you to attach). Officially licensed by Universal Studios Licensing, Inc, and the General Motors Corporation.
Ertl Diecast Model No. 33121 -
Entertainment Series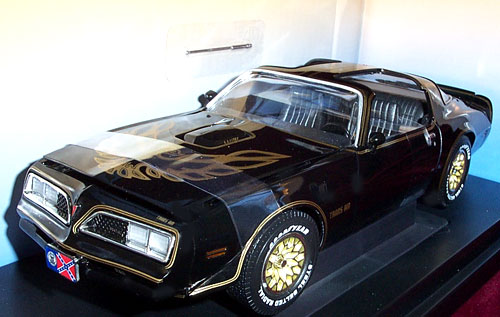 AVAILABILITY LOW - SEE PRICE HERE
Check out this video to see the original movie trailer for Smokey and the Bandit.