1963 Cadillac Series 62 from 'Scarface' (Jada Toys) 1/18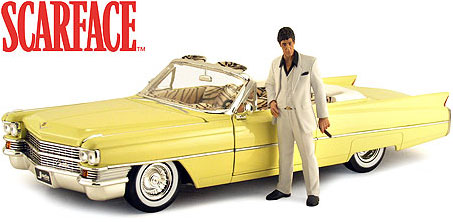 EASY ORDER INFO HERE
With its reputation for bringing the hottest trends to the toy aisles, Jada Toys proudly introduces its first movie property product-the 1:18 scale Scarface 1963 Cadillac Series 62. "We worked very closely with Universal Studios on this project to achieve the quality, look, and presentation deserving of this all-time classic," said Bill Simons, vice-president of sales, Jada Toys,Inc. "This is certainly one of the most colorful and unique 1:18 scale die-cast products ever introduced."
This stunning collectible replica features opening doors, opening hood and trunk, a tiger print interior, and an extreme attention to style and detail for which Jada Toys has become famous. Even better, the vehicle comes complete with a scale figure of Tony Montana clutching his trademark cigar and is finely packaged in the trademark Scarface black-and-white color scheme taken directly from the film's iconic one-sheet poster.
About the film
Academy Award-winningŪ actor Al Pacino gives an unforgettable performance as Tony Montana, one of the most ruthless gangsters ever depicted on film, in this gripping crime epic inspired by the 1932 classic of the same title. Directed by hit-maker Brian DePalma and produced by Martin Bregman, Scarface follows the violent career of Tony Montana (Pacino), a ruthless Cuban refugee who blasts his way to the top of Miami's drug underworld, attaining wealth and power beyond his wildest dreams. His rags-to-riches ascent is marked by memorable moments, including a scene in which the cocky Montana risks his neck to propose to Elvira (Michelle Pfeiffer), the girlfriend of murderous drug kingpin Frank Lopez (Robert Loggia). Only in the film's devastating finale does Montana come to grips with the awful price of his lavish empire.
With its intense screenplay by Academy Award-winner Oliver Stone, driving music score by Giorgio Moroder, and superb insights into Miami's lifestyle, Scarface lays bare the sordid power of the American drug scene.
Jada Toys DUB City Diecast Model No. 90003 -
Entertainment Series