1957 Olds Super 88 (YatMing Leather Seat Series) 1/18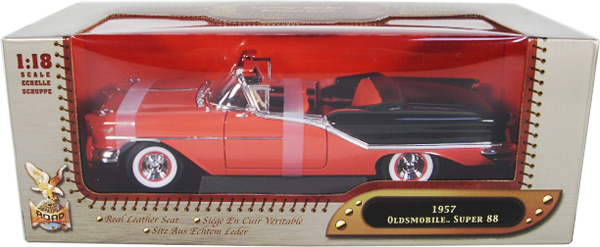 EASY ORDER INFO HERE
Introduced in 1949, the full-size Oldsmobile 88 was produced until 1999 and became the top-selling line for twenty-four years. The Oldsmobile Eighty Eight was a representation of an image. Especially during the beginning three years, the Oldsmobile 88 was one of the best performing automobiles. This was most likely due to its small size, along with the lightweight and advanced over-head valve high-compression V8 engines. This engine was originally intended for the larger, more luxurious 98 series.

Named to complement the already existing 76 and 98 series, the 88 which was considered to be the granddaddy of muscle cars of the 1960s was first introduced in 1949, and utilized the 76's platform with a newly added large and powerful Rocket V8 engine. Popular during its time, the Eighty Eight inspired a popular song 'Rocket 88' and a popular 1950's slogan, 'Make a Date with a Rocket 88'.

During the 1950's several updates to the Eighty Eight included a one-piece windshield unit as the replacement of the two-piece windshield with the addition of the Holiday Hardtop to the Oldsmobile line. At the same time, a three-speed manual transmission with column shift also became available as a 'delete for credit' option to the Hydra-Matic automatic transmission. After the 1950 model year, the six-cylinder 76 lineup was dropped entirely as the Eighty Eight now outsold the previous line.

In 1951 a more luxurious version of the basic 88, the new Super 88 model was introduced. In '57, the Oldsmobile design teams gave the 88's a jet fighter appearance that was popular then. The front had a wide open intake grille, swept-back wheel wells, and twin rear taillight fins were interesting design element to give the look of those jet propelled fighter aircraft.

YatMing Road Signature Diecast No. 92757 - with real leather seats!