1993 Nissan Skyline GT-R (R32) Group A GP-1 Plus #55 (AUTOart) 1/18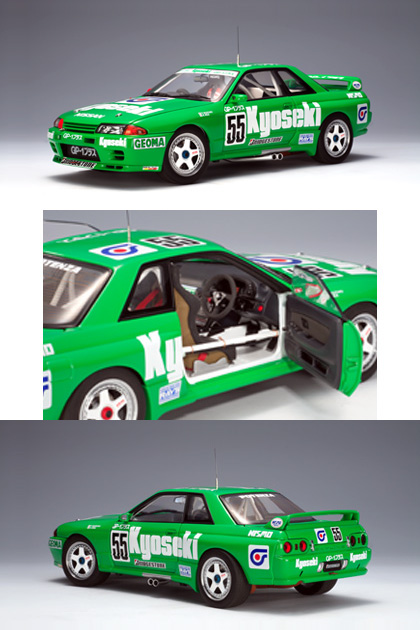 EASY ORDER INFO HERE
The Skyline name first appeared in 1957 on an austere sedan, but it didn't earn the nickname Godzilla until 1989 with the introduction of the Skyline GTR R32. The 8th generation Skyline, built until 1994 only in right-hand-steering and codenamed the RNR32, symbolized the technology and exuberance pervading Japan's bubble economy of the late 1980s. Offered only as a coupe with a special aluminum hood and blistered fenders plus an enormous intercooler scoop and a rear spoiler, the GT-R R32 featured Nissan's electronically-controlled all-wheel-drive system called ATTESA-ETS (for Advanced Total Traction Engineering System for All-Electronic Torque Split). It also used Nissan Super-HICAS (High Capacity Active Steering) four-wheel steering system and huge four-piston disc brakes.

The throbbing heart was the famed RB26DETT engine, a 2568cc dual-cam 24-valve inline-six with twin Garrett T28 turbo chargers. In street form, the RB26DETT made 280 horsepower per Japanese regulations and blasted the Skyline to 60 mph in 4.8 seconds, but the car was developed to give Nissan supremacy in Asia-Pacific Group A racing, a restrictive class devoted to stock-body cars that were required to be homologated by small runs of limited-production special car models available to the public.

Tuned to 600 horsepower, the racing GT-R R32 models debuted in 1990 and gave Nissan 29 consecutive victories in Japan's Touring Car Championship. By mid-1991, the Group A class was entirely made up of Skyline GT-R cars, vanquishing the Ford Sierra and BMW M3. The R32 also achieved international success, winning the British and Spanish touring car cups and Australia's famous 1000-kilometer Bathurst enduro race in 1991 by a full lap. In 1993, at the final Group A race at Japan's Fuji Speedway, 94,600 fans turned up to see Godzilla in its finest hour. Worried that the public and competing manufacturers would lose interest in the face of the unbeatable Nissan Skyline GT-R, racing sanctioning bodies changed the homologation rules, saddled the Skyline with weight penalties, or banned it outright. The R32 reigned supreme to the end of its racing life and has become one of Japan's most internationally respected and collectible cars.

AUTOart Diecast Model No. 89379 - NISMO Nikko-Kyoseki Skyline Limited Edition of 3,000
Diecast Model Cars!