1970 Ford Torino - Blue (Ertl Elite) 1/18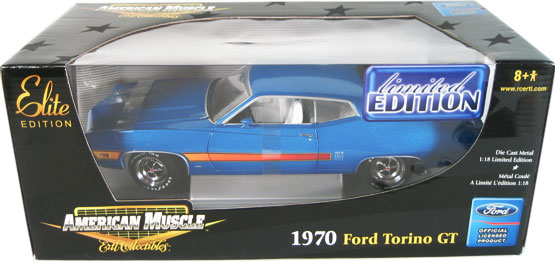 EASY ORDER INFO HERE
It was low, wide, and long, and graced with smooth aerodynamic lines - it was the '70 Ford Torino. Ford literature said it was "shaped by the wind" and MotorTrend named it "Car of the Year." The GT was the sporty Torino, and while its base 351 was impressive, the avid sportsman could opt for a more powerful 429 under the hood for some additional ponies. A long list of cosmetic and performance options was available, also assuring that the car looked the part of a true performer. More than 56,000 enthusiastic buyers purchased one of these "blue oval beauties."

The Torino GT for 1970 was a new slant on a track-honed body design, and had room in its engine bay for just about anything in the Ford engine lineup, starting with the standard 302 cid V8 and topping off with the heavyweight 429. No matter what you had under your GT's hood, with monster motors and the throaty roar of dual exhausts out back, "GT" stoof for "Good Times."

Ertl Elite Series Diecast No. 39288 - Featuring Goodyear Polyglas GT tires.