1969 Dodge Charger R/T 426 Hemi (Ertl Authentics) 1/18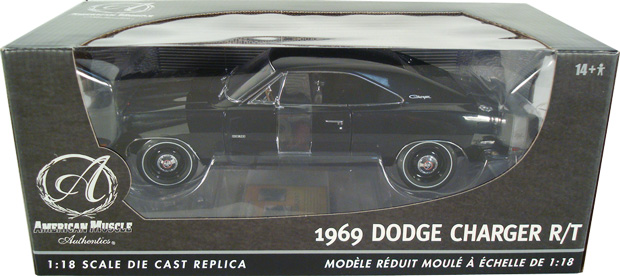 EASY ORDER INFO HERE
For '69, Charger R/T was Dodge speak for brute force, both in aggressive muscle car looks and mega-cube, 440 Wedge and 426 Hemi big block V8 engines. Styled for road and track, hence the code name R/T, the Charger was designed from the ground up for visual excitement, from it's open mouth, blacked out grille with hideaway headlights, to it's bulging fenders and those amazing flying buttress rear roof pillars. Standard R/T power was the 375 horsepower 440 engine, called the Magnum.

This diecast model features Dog Dish Wheels with White Line Tires.

Ertl Authentics Diecast Model No. 39500 - Limited Edition of 1,302 Diecast Pieces!
AVAILABILITY LOW - SEE PRICE HERE