1968 Pontiac Firebird 400 - Aleutian Blue w/ Vinyl Top (Lane Exact Detail) 1/18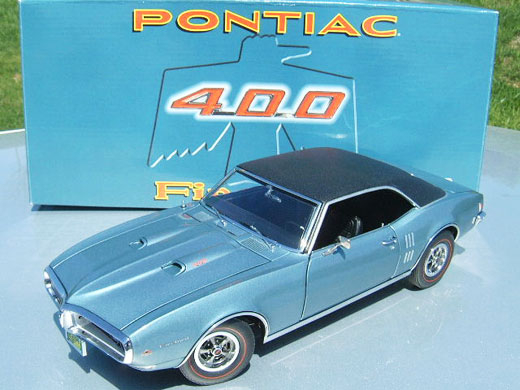 EASY ORDER INFO HERE
Introduced in coupe and convertible versions in February 1967, the Pontiac Firebirds were listed as mid-year models. Considering the competition from Chevy, Ford and Mopar, the new Pontiac offering did quite well with well over 82,500 sales in just seven months. The 1968 Firebirds made their debut in September 1967 and at year's end sales totaled 107,112 units.

The 1967 Firebird flew from the nest in five versions, each with its own distinctive personality. All were designed, built and optioned for a specific style of driving. Standard equipment on all Firebirds were comfortable, attractive vinyl interiors, wide-oval tires, wood grained interior appointments, bucket seats (although a bench seat could be ordered in the coupes), and GM's standard safety package.

At the economy end of the scale was the Firebird. Standard power for the base Firebird was a technically advanced engine, exclusive to the Pontiac Division and available only in Firebirds and LeMans models...the 230 cubic-inch Over Head Cam Six. Pumping out 165 horsepower on regular gas, the OHC-Six could be ordered with a column-shifted 3-speed manual or automatic transmission.

The Firebird Sprint boasted a 4-barrel version of the OHC-Six rated at a whopping 215 horsepower, specially designed and tuned suspension that "welded" the car to the road, floor-mounted fully synchronized 3-speed, optional front wheel disc brakes and hood-mounted tachometer.

Intended to be a family style sports car, the Firebird 326 combined the excitement of a sports car with the practicality of a 326 cubic inch V-8 that delivered an honest 250 horsepower on regular gas. Transmission choices included the all-synchro 3-speed manual or an automatic, and options included everything from air conditioning to stereos.

The name said it all for the Firebird HO. The letters in the name stood for High Output and were backed up by a 285 horsepower V-8 with a four-barrel carburetor, dual exhausts, sports striping, and optional floor-mounted 4-speed manual or automatic transmissions to supplement the column-mounted 3-speed manual offered as standard equipment.

The Firebird 400 made no pretenses as it was a straight-forward, pavement gobbling grand touring machine with a 400 cubic inch V-8 rated at 325 horsepower. Riding on redline wide-oval tires, the Firebird 400 offered the ultimate in power and speed. The horsepower could be transmitted through the standard heavy-duty, floor-shifted 3-speed manual, floor shifted close- or wide ratio 4-speed manuals, or the rugged 3-speed Turbo Hydra-Matic.

As time goes by, we plan to offer Exact Detail versions of many of these cars, some in street trim, as well as others depicting famous race and factory experimental versions with such exotic options as Ram Air induction and special wheel/tire treatments.

Lane Automotive Exact Detail Diecast Model No. 402V - Limited Edition of 2,500 Pieces!