1963 Ford Galaxie 500 "Texas Thunder" Superstock (SunStar) 1/18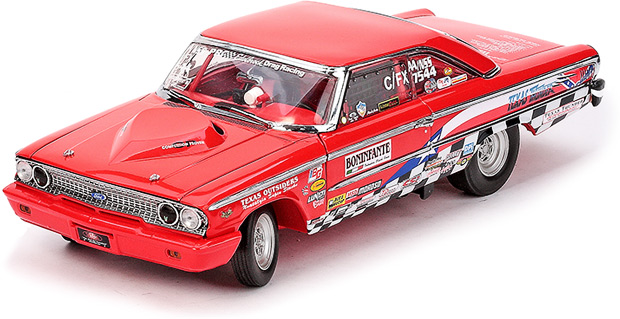 EASY ORDER INFO HERE
This is a replica of "
Texas Thunder
" - a 1963-1/2 Ford Galaxie which raced in Nostalgia Super Stock. Owned by Dan Bell and driven by Mark Artis, the car was built in 1997 at Texas Thunder Performance in Frisco, Texas, and has been campaigned across the U.S. for 10 years. Richard Bell is the crew chief. Powered by a 427 FE engine measuring 484 cubic inches and a 4-speed transmission. Although not a Factory Lightweight car, race weight is 3,350 lbs. with driver. Engine utilizes Edelbrock heads, SCAT Crankshaft, Venolia pistons, T&D rocker assembly, and a Texas Thunder Performance designed roller camshaft. A Jerico transmission along with a Boninfante/Texas Thunder clutch applies the horsepower to a Strange 9 inch rear end with 5.00 gearing and M/T 30 X 10.5 wide tires. Launching at 6500 and shifting at 7800, the best effort to date is a 9.63 at 140 in the quartermile.
Some highlights are Class wins at Cordova, Illinois and Memphis, Tennessee along with the 2006/7 overall championship in the Texas Outsiders Racing Series.
SunStar Diecast Model No. 1471