1969 Boss 302 Mustang 'Smokey Yunick' Tribute Car (Highway 61) 1/18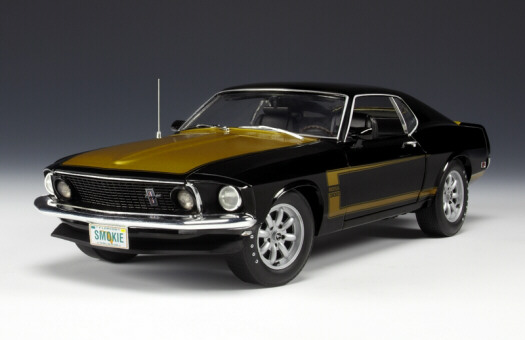 EASY ORDER INFO HERE
The Mustang was restyled for 1969, gaining 3.8 inches of length, all ahead of the front wheels, but retained its 108-inch wheelbase. Dual headlamps were introduced in 1969, with the extra pair set into the outer area of the grille. A new pony and tribars logo set off-center to the driverís side adroned the grille. The Mach 1 body style (essentially a fastback GT with different stripes and a more upscale interior) debuted in 1969 and came standard with a 351 cid V8. Spoilers and rear window louvers were optional.

'69 Mustangs could also be ordered with the 428 Cobra Jet, which now came in three states of tune.The first was a non-Ram Air version, followed by the Ram-Air version which breathed through a shaker hood scoop. Topping the list was the new Super Cobra Jet which came with the Drag Pack option. The Super Cobra Jet used the shaker hood scoop, a modified crankshaft and stronger connecting rods. The Drag Pack also came with limited-slip 3.91:1 or 4.30:1 rear axles and no air conditioning. All three engines were underrated at 335bhp. All this power overwhelmed the rear tires, which suffered from a 59/41% front-to-rear bias which also hurt handling. But then, these Mustangs weren't built for curves, just straight 1/4 mile lines.

The circle tracks were reserved for the Boss 302 series of Mustangs. Named after stylist Larry Shinoda's nickname for Ford president Semon "Bunkie" Knudson, the Boss 302 Mustangs To combat Chevrolet's Camaro Z/28 in Trans Am racing. The Boss 302 used a 302 cid V8 treated to the cylinder heads from the racing 351 cid engine and Ford's largest carb. It was underrated at the same 290bhp as the Camaro Z/28's engine. Boss 429 Mustangs were built to qualify the 429 V8 for NASCAR. The Boss 429 package came with a race ready 429 cid V8 with ram air induction, an aluminum high riser and header type exhaust manifolds. Mandatory options included a four speed manual and a 3.91:1 Traction-Lok axle. Also included were an oil cooler, trunk mounted battery, race suspension, and the best interior Mustang had to offer. Although impressive on paper, the Boss 429s failed on the street where their dependence on high revs hurt their street starts and the initial batch had incorrect valve springs that would stop winding at 4500rpm instead of 6000rpm. Nevertheless, it had good handling and would last through 1970 model year.

Highway 61 Diecast Model No. 50730 - Limited Edition of 600 Diecast Pieces!