Woodward Avenue Diorama Set (Hot Wheels) 1/64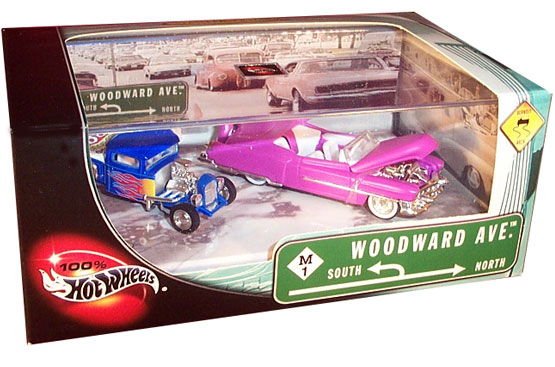 EASY ORDER INFO HERE
Woodward Avenue
Hot Wheels Item No. 56765

Detroit's Woodward Avenue has been a mecca for Motor City cruisin' for five decades. In the '50s it was a few lowered cars with whitewall tires, skirts and spinners - nowadays it is the site of an annual summer reunion that attracts rod and custom car enthusiasts from across the country.

But it was during the mid '60s when Woodward's reputation grew to legendary status. The car culture changed from "Low and Slow" to "Fast Forward". With the sounds of Motown music blaring from car radios, early muscle machines mingled with the city's hottest rods and coolest customs in a nightly ritual of cruisin' to the north end of Woodward. There, Ted's Drive-In offered hot burgers, cool waitresses and the chance for engine revvin', clutch poppin', tire screechin', and stoplight-to-stoplight street racin'.

Those were "The Days" and Hot Wheels Woodward Avenue 2-car set can take you back there. This is a Limited Edition set for the adult collector complete with a hard plastic display case.