1967 Chevy Impala SS 427 - Mountain Green (Ertl Authentics) 1/18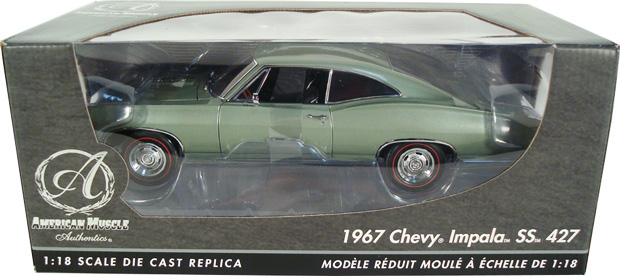 EASY ORDER INFO HERE
Below is text from print ads for the '67 Chevrolet Impala SS 427 Sport Coupe

Heavy. The way most people want an Impala - nearly two tons. And big. Its body by Fisher is over six and one-half feet wide and, bumper to bumper, it's over 17 and one-half feet long.

And secure. It has the GM-developed energy-absorbing steering column, an energy-absorbing steering wheel and instrument panel. It has a dual master cylinder brake system with a light to warn you of a pressure difference in either system.

And it's right. A 1967 Caprice, Impala, Bel Air or Biscayne is built for the highways like never before. And inside, with its many new ideas, you take along all the peace and quite and comfort of home - maybe even more! Now, at your Chevrolet dealers.

Ertl American Muscle Authentics Diecast Model No. 39501 - Limited Edition of 1,302 Diecast Pieces!