1965 Chevy Chevelle Malibu Z16 - Tuxedo Black (Lane Exact Detail) 1/18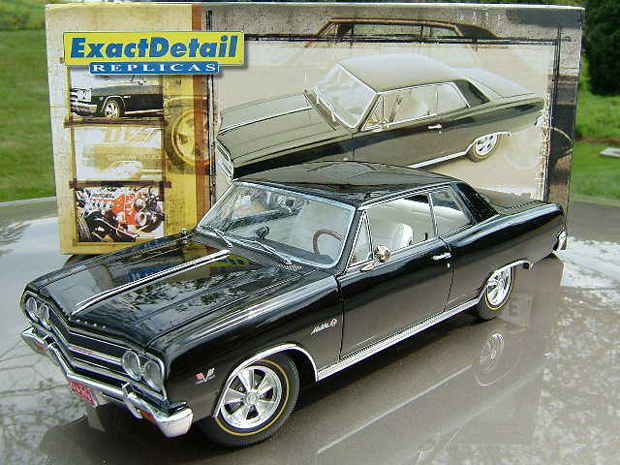 EASY ORDER INFO HERE
PLEASE NOTE!
We only have one piece left and it is the LED-505 with the
black interior
and Limited to 996 pieces. A rare find!
The gleaming Tuxedo Black '65 Z16 Chevelle owned by Richard Fudge is a unique story of survival. With a total production of only 201 units, Z16's were extremely rare from the exact moment they left the assembly line. Offered only in red, yellow or black, the smallest percentage of that 201 came in black. Several factors - most of them race oriented - would intervene during the next few years to even further thin the ranks of surviving Z16's.
The 375 horse 396 in the Z16 Chevelle was likely the hottest combination ever fielded by the Chevrolet Division, and drag racers lined up to get their hands on one. Initially raced with great success in the stock eliminator ranks, many of the Chevelle Z16 drag cars were swept into the early stages of factory experimental drag racing which eventually developed into what became known as funny cars. As factory experimentals, the cars were lightened considerably, both through the deletion of non-essential pieces and partls like back seats, carpeting, heaters an radios, and the substitution of steel fenders, doors, deck lids and hoods with fiberglass components. When the metamorphosis was complete, the Chevelles became full-fledged funny cars. Frames were trimmed, straight axles replaced front suspensions, and wheelbases (and sheet metal) were drastically altered. It's not known how many Z16 race cars met this fate, but ther were ore than just a few that raced nationally as funny cars during the 1965 drag race season that likely were scrapped when teams moved on to newer body styles.
Richard Fudge's Z16 became a drag racer right off the showroom floor when Bob Frensley, a Chevy salesman at Capitol Chevrolet in Nashville, Tennessee bought it for drag competition and had the car lettered up as "Crusader." Richard was a sophomore in high school and working in a local car repair shop when his boss, Clyde Felts, purchased the car from Frensley and began campaigning it in B/Stock and Super Stock D at the drags. In the fall of 1970, Clyde bought a 427-425 horse Camaro for drag racing and that marked the end of the Z16's drag race days. Richard bought the car from his boss and replaced the original exhaust system, AM-FM radio, stereo multiplex and other stock items to make it streetable for the first time since it was built.
Richard drove the car on the street until 1984 when he parked it and started driving a more docile Monte Carlo. In 1989, he joined the National Chevelle Owners Associat (N.C.O.A) and after consultations with a few Chevelle experts he was able to confirm what he always suspected – that his Chevelle was a very rare car. He hired California Chevelle and Corvette restorer, Chris Daniels, to do a complete restoration and the car was don in time to attend the 1993 Chevelle Showdown in Nashville.
Thus, we have one Chevelle that started out as a race car, but was saved from the fate that many of itspeers met. Today, few 1965 Z16 Chevelle cars survive and Richard Fudge's black hardtop is one of the prettiest…and definitely one fine example of a very rare factory performance package.

The 1965 Malibu SS 396, more commonly known by its RPO code of Z16, was an impressive showcase of engineering ability and sticker shock. The Z16 package included not only a 375 horse 396 cubic inch engine and beefed up drivetrain, it included much of the Chevelle option list! RPO Z16 increased the base sticker price by more than half but included a sturdy boxed frame, full-size Chevrolet brakes, a narrowed full-size Chevrolet rear axle, heavy-duty suspension components including front and rear sway bars, power steering, power brakes, heavy duty cooling, tachometer, comfort convenience group, deluxe seat belts with retractors, special 160mph speedometer, simulated wood steering wheel, 5-speaker AM/FM Multiplex Stereo system, heavy duty wheels, gold line tires, simulated mag wheel hub caps and more.

Lane Exact Detail Diecast Model No. 505a - Limited Edition of 996 Diecast Pieces